Section: A Lot: 134 Grave: S4
Section: A Lot: 134 Grave: S4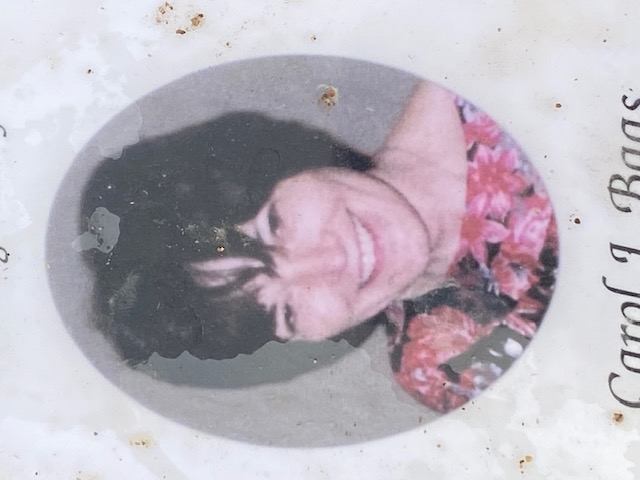 Carol Jean Baas
Born: December 11th, 1945
Died: July 15th, 2021
Obituary
Mrs. Carol Jean Baas
December 11, 1945 - July 15, 2021
Baas, Carol Jean (nee. Pitrowski) age 75, of Waterford, passed away with her loving family by her side on July 15, 2021. Carol was born to Frank and Cecilia (nee. Ostrowski) on December 11, 1945 in Milwaukee, WI. Carol was raised and educated in the Milwaukee area and graduated from Pulaski High School. She enjoyed working as a waitress at Rich's Tip Top Restaurant. A blind date one New Year's Eve with Michael Baas began their romance and led to wedding vows on May 25, 1965, in Waukegan, IL. Carol worked at Schad's Restaurant in Wind Lake while raising their family. Carol loved caring for her family along with gardening, canning and crafting, for which she won many ribbons at the Racine County Fair. Carol also enjoyed caring for her four-legged friends and was a member of the National Wildlife Association and several animal rescue organizations. She will be dearly missed by all who knew her.
Carol is survived by her loving husband of 56 years, Michael, children, Chris (James) Loos, Gene (Bekki), and Chuck; grandchildren, William, Kayla and Michael.
Preceded in death by many family members and friends.
Visitation will be held on July 22, 2021, from 10:00 – 10:45 AM with a service beginning at 11:00 AM at Norway Lutheran Church, 6321 Heg Park Rd., Wind Lake, WI 53185. Burial in Norway Hill Cemetery following services. In lieu of floral expressions of sympathy, Carol's family would appreciate memorial donations made to Lakeland Animal Shelter.
The family would like to thank the staff at Linden Grove, Mukwonago for the wonderful care of Carol in her time of need.